Ancient Greeks felt mistletoe bestowed fertility. Scandinavians believed it brought peace. The English believed kissing under the mistletoe indicated deep romance, friendship or goodwill. Social media provides all these benefits.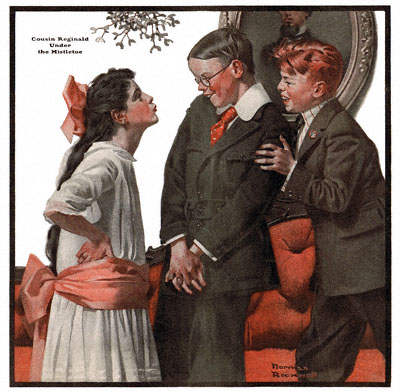 Norman Rockwell's Cousin Reginald Under the Mistletoe (1917)
Copyright © 1917 The Country Gentleman and Curtis Publishing Company
When the holidays come, the threat of getting caught under the mistletoe is a reminder that not everyone is comfortable with all forms of social intercourse.
This may be a key reason it is often difficult to convince colleagues that they should get on social media networks such as Twitter, Facebook, and LinkedIn.
No matter how valuable you may find these networks you may have difficulty convincing skeptics of the value of sharing online and connecting with their colleagues, friends and acquaintances in public forums.
Often, it is not until people see the success of social media that they begin understanding the benefits of active participation in social media.
Social media is a fertile place to create connections. By virtue of just being on social media you will grow a following of people and connect with those who are interested in the same things you are interested in. And you don't require an email or street address to share resources with these connections. Metrics: Growth of followers, fans, friends.
Social media deepens existing relationships. By sharing your professional and personal life via social media others learn more about your personality and what is important in your life. Ultimately, this shared information builds connections with others that cannot be created through formal settings. Metrics: Conversations, comments and feedback via social media.
Social media helps you identify your audiences. While we often feel we know our target audiences, social media enables audiences to self identify. And we can identify people's background and interests. Furthermore, you can identify the multiple connections others have with you to determine who is most strongly connected with you (and why!). Metrics: Short biosketches about key audience members that are connected to you.
So next time you have a conversation about social media with a skeptic, consider providing these tips and metrics about your social media experience. This might encourage them to "pucker-up".